I thought I ought to create a page for mommies or mommy-to-be. The following products are products I've personally used and fell in love with.
1.
Avent One Piece Anti-Colic Valve System Milk Bottles
I've used the original Avent milk bottles and they do work equally well. Yet what I love most about the one piece anti-colic valve system is that Avent has forego the anti-colic ring. This only means one less item to wash for each bottle. If you are already a mommy to a newborn, you would definitely appreciate having less stuff to wash & sterilize. I know I do and I'm glad I made this purchase. Lucky for me I got the bottles at a local baby fair. 4 bottles (260mls/9oz) for SGD50.
2. Avent 4-in-1 Sterilizer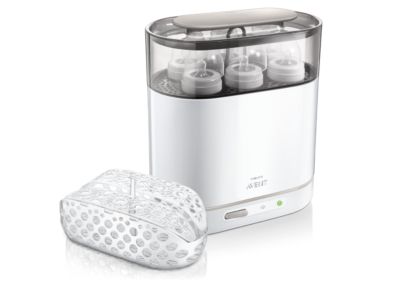 I previously used the older model and it drove me nuts. There was leakage and it caused several occasions of electricity trip at home. With raging post-partem hormones, confinement stress & exhaustion, I broke down in tears each time the older model failed me. I cried even harder when I had to try the convention boiling method. My fingers got scalded every time and I swear I got driven half nuts.
My husband then got the new 4-in-1 model which from the looks of it proved Avent's researchers finally improved their sterilizer system. The bottom plate where you need to pour water and the sterilizer body are separated. Unlike the older model where you have to pour water into the sterilizer body since the sterilizer plate is in-built as one. So ever since then, I said goodbye tripped electricity and annoying leakage. And did I mention? The new model has so much more space which meant more items can be sterilized at a go.
3. Medela Free Style Pump
I do not nurse my baby directly but have been expressing my milk since Kayleb's early infancy stage. I began EBM with Avents Single Electric Pump and it has served me well. What I didn't realize that it is not exactly suitable for hard-core regular daily use. So the pump started to feel less strong, which I believe I overworked its motor. If you are a mommy who nurses and need a pump to express occasionally, Avent Single Electric Pump works brilliant.
So for mommies like myself, Medela Freestyle Pump works great. It is built for daily usage and comes extremely light weight when compared to my previous pump. Pumping silently is another plus point because I don't want to awaken my husband for my daily 6am pumping session. Freestyle is a hands-free pump which means you don't have to hold the pumps. It comes with straps that allows you to strap the pump to your nursing bra and tadah! your hands are free to do other things. The suction motor comes with a screen that tells you how long you are into your pump session. Beats having to constantly look at the clock and you need not turn on your room lights during night pumps.

Freestyle remembers your preferred pump strength and whenever you on the pump, simply press the memory button to get started. The pump kicks off with a gentle suction that mimics a baby's initial suckling which aids let down and then stronger suctions that collects your breast milk. The thing is, it is pre-set to suck once every second so you don't get to choose the suction speed (Avent allows that).


Plus points for this pump is that it comes with a complimentary tote (which imho is pretty) and a cooler bag that can cool up to 12hours. For working mommies who face difficulties storing their breast milk, this cooler bag sounds like a great deal. The down side of this pump is that it's really expensive. I got it at SGD 779 at a local baby fair. So it might be more expensive at regular retail outlets.
4. Skip Hop Versa Diaper Bag
This diaper bag has nothing I can complain about. Made of great quality, water-proof material, the Versa bag is spacious, chic and most importantly stroller friendly. It comes with two stroller straps that allows you to hang your bag on your stroller handle. According to Skip Hop, it fits ANY stroller. How great is that isn't it?
I love the multi-inner pockets, external compartments and most importantly a center zip that gives you 20% more storage space.
Also, did I mention, I adore how Skip Hop makes the bag so chic that it doesn't even look like a diaper bag.
Got my Versa bag from www.babyonline.com.sg for SGD 114.90. Comes with free local delivery.
5. Pigeon Fridge to Go Cooler Bag
My husband and I often head out with Kayleb over the weekends and since we bottle feed him breast milk, we decided to invest in a cooler bag. This cooler bag is large enough to store 2 Avent 260mls milk bottle and 2 Avent Breast Pump (plastic part without the motor). It comes with 2 plates of ice packs that can be conveniently slotted into its designated side pockets. It also has two external compartment, one with a zipper, the other with a velcro seal. I use the zipper compartment to store my disposable pre-sterilized breast milk bags and the velcro one for my nipple cream and pen. The cooler system so far last us about 5-7 hours. We usually don't hang out THAT long since it is tiring heading out with a newborn.